Great fun with family and friends in Gary and Arlene's kitchen...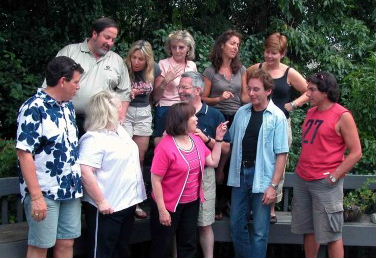 I love to cook and experiment in the kitchen. I don't think that I have ever made the same meal exactly the same way twice. I just love to try new things.
Anyways, every 6 months or so, we get together with a group of cousins on my wife's side of the family for a pot luck dinner. We eat, we gab, we catch up and we tell the same old stories we never seem to tire of hearing.
Here are a few of their favourite recipes, but be careful... each recipe will feed an army!
Amazing Mussels - Stevey's Favourite!
To Die For Pad Thai - Remembering July 4th weekend at Karen and Jack's
Chicken Soup Better Than I Remember - Mom, forgive me!
Lasagna with Roasted Vegetables and Fresh Herbs - Even Mark asked for seconds
Squash Soup - souped up with cinnamon, brown sugar and...
Jam? Sometimes we cook by playing music together (I am on flute):
Give the file a moment to load...
Will you still love me tomorrow